Professor John B.R. Agard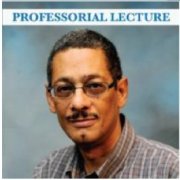 Permanent URI for this collection
This collection contains the peer-reviewed and non-peer-reviewed publications of Professor John B.R. Agard.
Educational Background:
Ph.D. Zoology, University of the West Indies, Trinidad and Tobago.
Postgraduate Diploma, Systems Analysis and Design (with Distinction), NIHERST, Trinidad and Tobago.
M.Sc. Pollution & Environmental Control (with Distinction), The University of Manchester, U.K.
B.Sc. (General) Chemistry and Zoology (with Honours), UWI, Trinidad and Tobago.
On-going Research Projects:
Project for Ecosystem Services (ProEcoServ) (www.proecoserv.org).
Global-Local Socio-economic Climate Change Scenarios for the Caribbean (GoLoCarSce).
Nariva Swamp Restoration and Carbon Sequestrationion Project (YouTube).
Contact Information
Department of Life Sciences The University of The West Indies St. Augustine, Trinidad and Tobago
Location: Natural Sciences Building, New Wing, Ground Floor Tel: UWI ext 83095 Fax: 1(868) 663-5241
Browse
Recent Submissions
No items to show